My ride: TY Cullins' SuperEnduro TM Racing 300cc two-stroke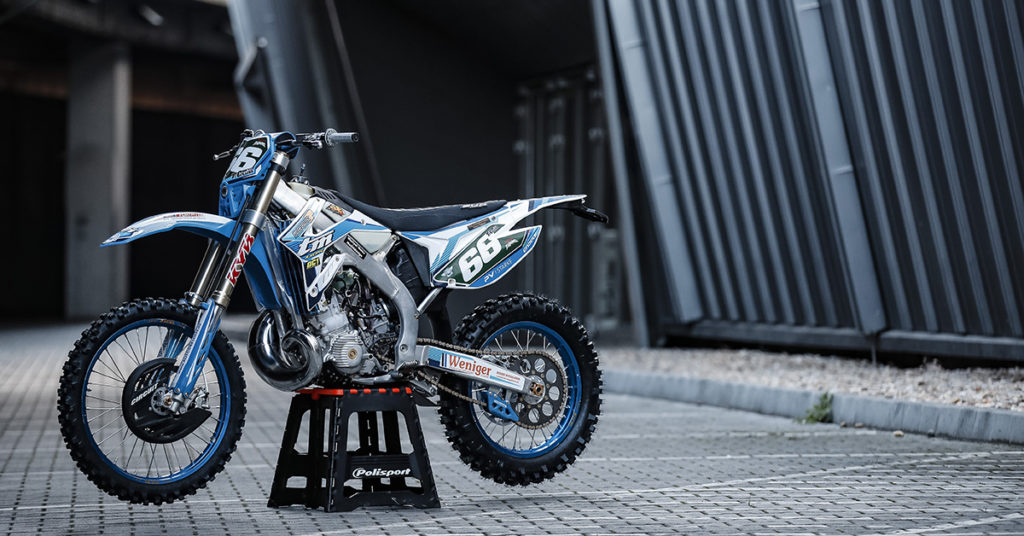 The 2020 SuperEnduro World Championship is short on a couple of items this season – Americans and TM Racing motorcycles. EnduroCross Junior Champion, Ty Cullins and his Wieczoreck GP Racing Team are making amends for those issues blazing a trail through the Junior series and making their presence felt with overall GP wins and a turn holding the covetted leaders red plate. 
Recent rounds have proved how hard and unpredictable the Junior class can be for riders with a host of gremlins keeping Cullins from achieving the results he expects of himself. But they remain in the thick of the action and title contenders with one round to go in Poland, March 14.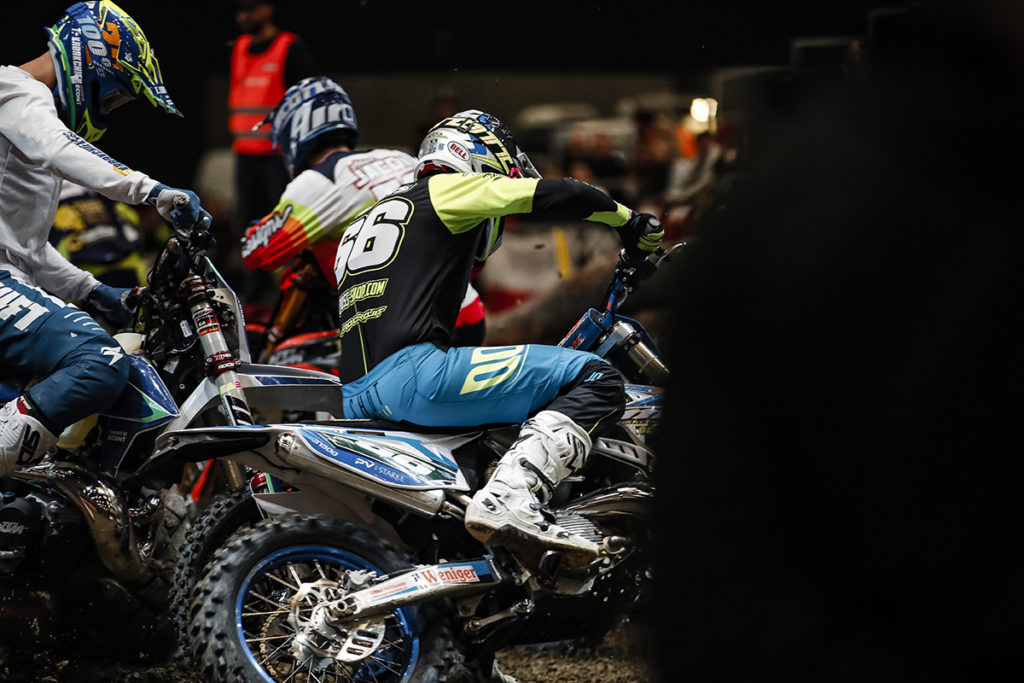 Cullins will need little introduction to the US readers having taken the EnduroCross Junior title rubbing bars with Cody Webb and Colton Haaker for the US TM Racing team. 
The Wieczoreck GP Racing Team are equally no strangers to the indoor SuperEnduro where they have fielded Benjamin Herrera in recent seasons. The team run under the experienced wing of Mike Schmidt, the German and Austrian TM Racing importer who has a wealth of experience in different off road sports stretching back to the 1970s.
That's enough about the people, what's so special about the 300 two-stroke Ty Cullins in racing in the Junior SuperEnduro World Championship?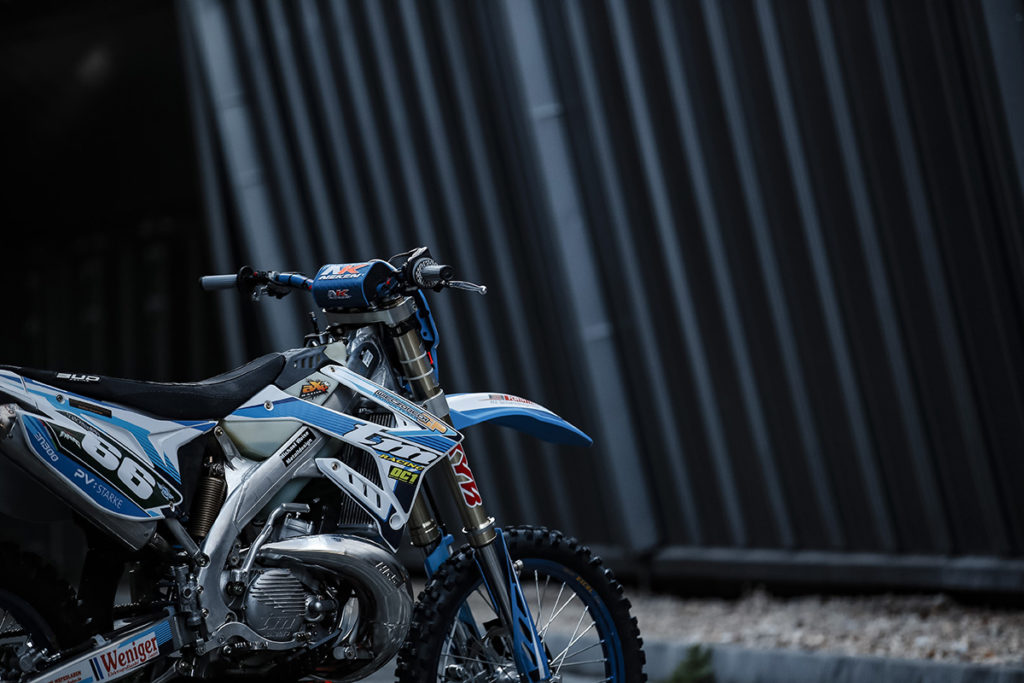 One of the truths about Italian manufacturer TM's production motorcycles is they roll away from dealers as fully formed race bikes. The EN 300 ES 2T Ty Cullins is racing for the Wieczoreck GP Racing Team is no exception and as we catch up with them at the Hungarian GP it is the first fact they tell us about the bike – she's pretty stock really.
TM motors are notoriously strong and the 300 two-stroke is a beast that needs no tuning. Cullins is running the standard engine, air box and filter plus the standard HGS exhaust system – no changes are needed they tell us.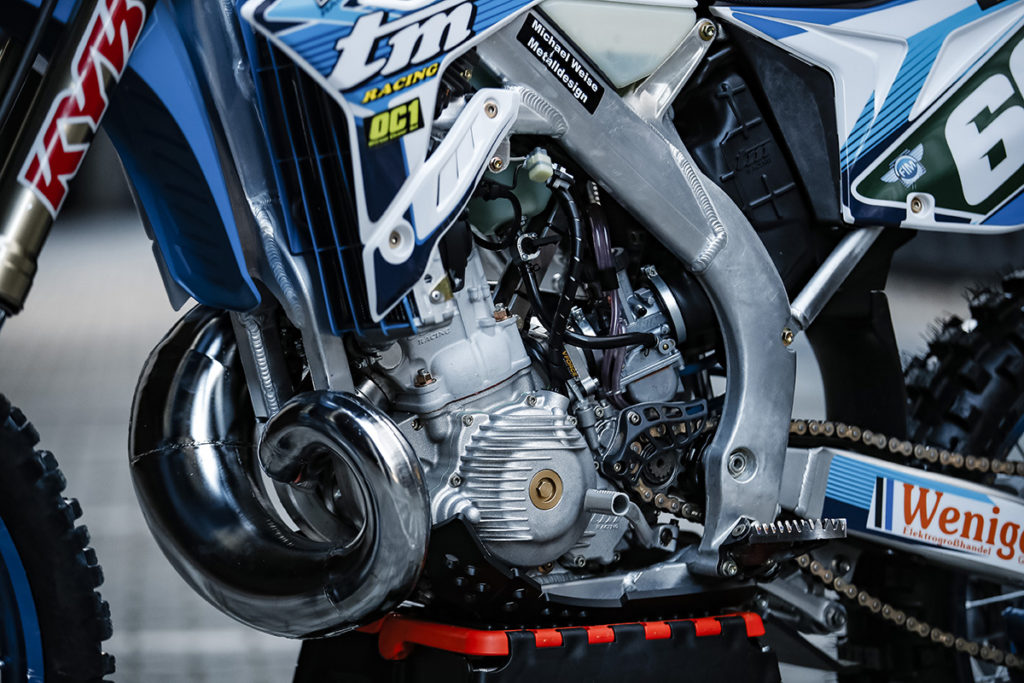 The only difference is the carburettor and jetting which runs a "special setting" to suit indoor racing and SuperEnduro tracks. "It's a specific setting for the indoors," explains Mike Schmidt of TM Racing Germany, "you can go much leaner indoors and it's tuned so you have more response when you open the throttle, but that's the only change compared to the standard engine."
In fact they are running the same setting Benjamin Herrera used in 2018. "After working with him we knew what worked so it makes things easier." Adds Schmidt.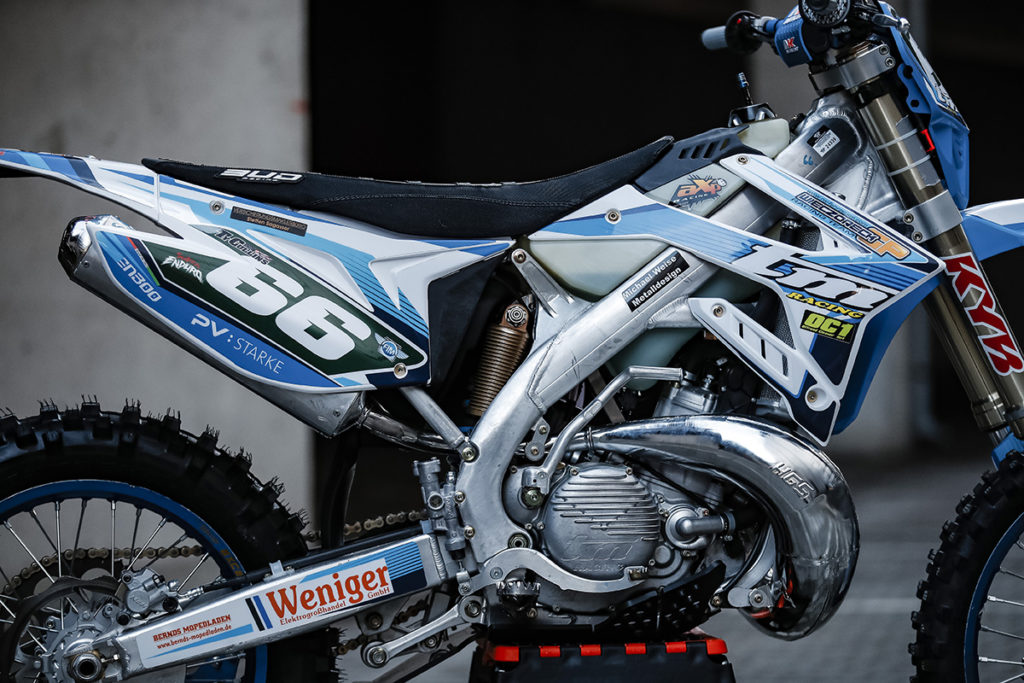 Gearing changes to suit Cullins
The Wieczoreck GP Racing Team admit they've tried a few different final drive gearing options during the 2020 season but basically it's smaller in the front and bigger in the back. "The standard bike we raced in previous seasons was 13-51 but Ty uses 12-53." Confirms Mike. "We never used this combination but Ty wanted it like this."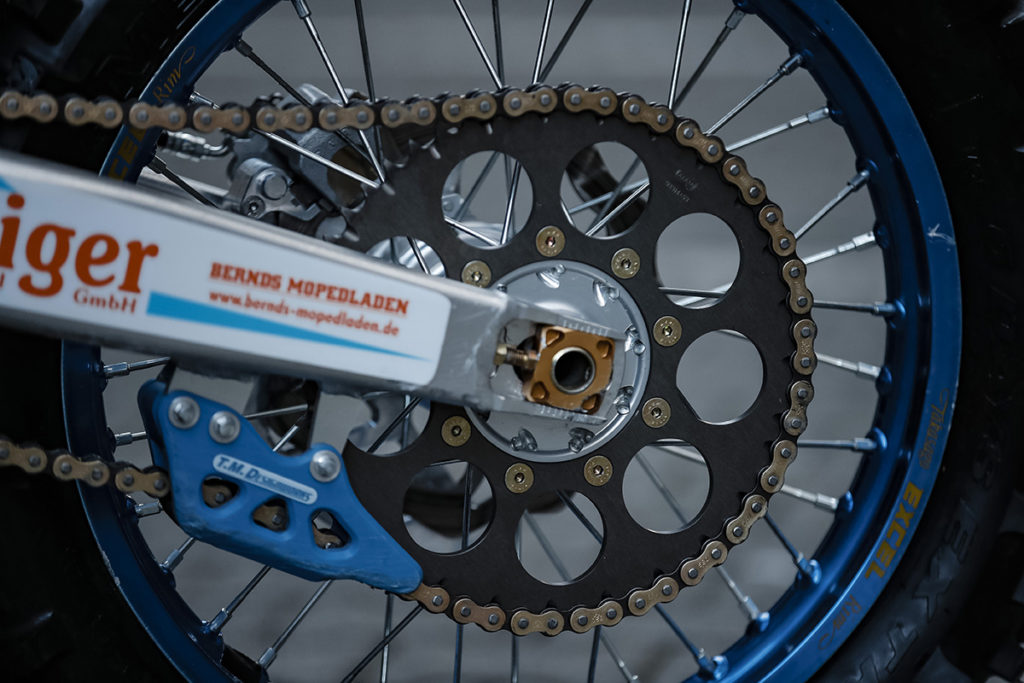 Suspension by US off legend, Ty Davis
"The fork set up is nothing too special, more like a general off road setting, kind of good for everything." Explains Cullins about his personal bike preferences with the springs and dampers. "I could take this bike and ride motocross or a GP at home and it'll work." 
The KYB suspension is actually the set Cullins uses back home in the US which he shipped over at the start of the 2020 season in Poland. US off road legend Ty Davis does the work on the suspension – that's Ty Davis of ZipTy.com fame.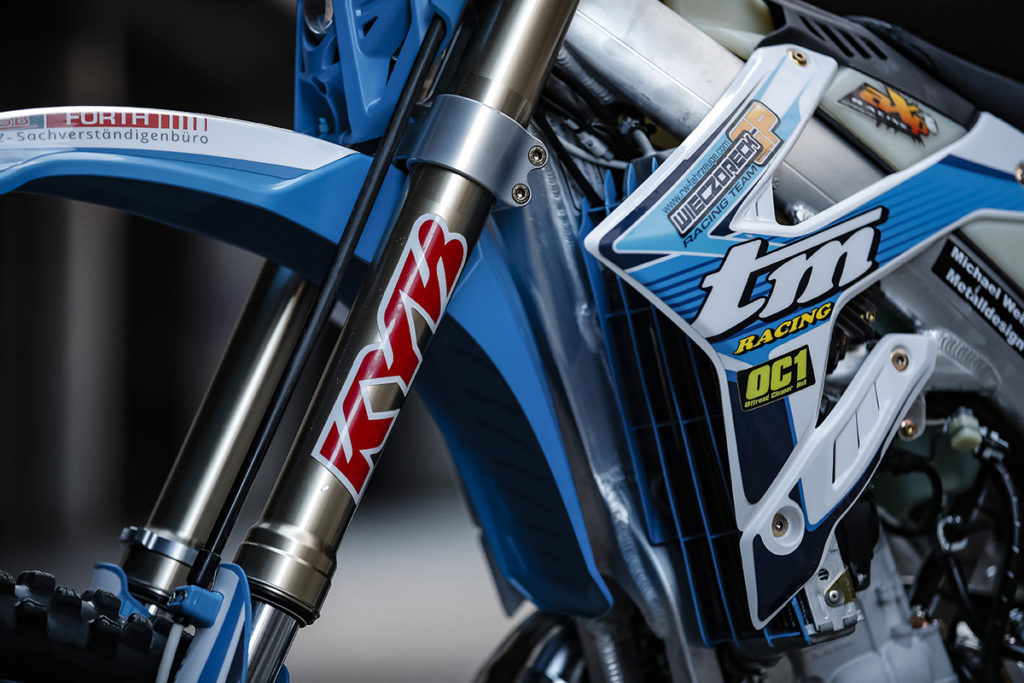 What about that set-up though, surely it has something different to hit those logs so damn hard? "I normally like my forks a little bit stiffer than the shock because I don't like it when they bottom out when I land a jump or hit something hard." Explains Cullins. "I'm particular with the fork, when going through the rocks I don't like the front end to bounce around I like it to go straight."
US imports
Hauling all your bike parts over from the USA might seem like hard work but when you know your set-up works then why wouldn't you? "To bring the parts from home was always a plan." Ty tells us. "Really, I only brought the suspension from there. Most the other parts got sent to the team and they put them in the bike."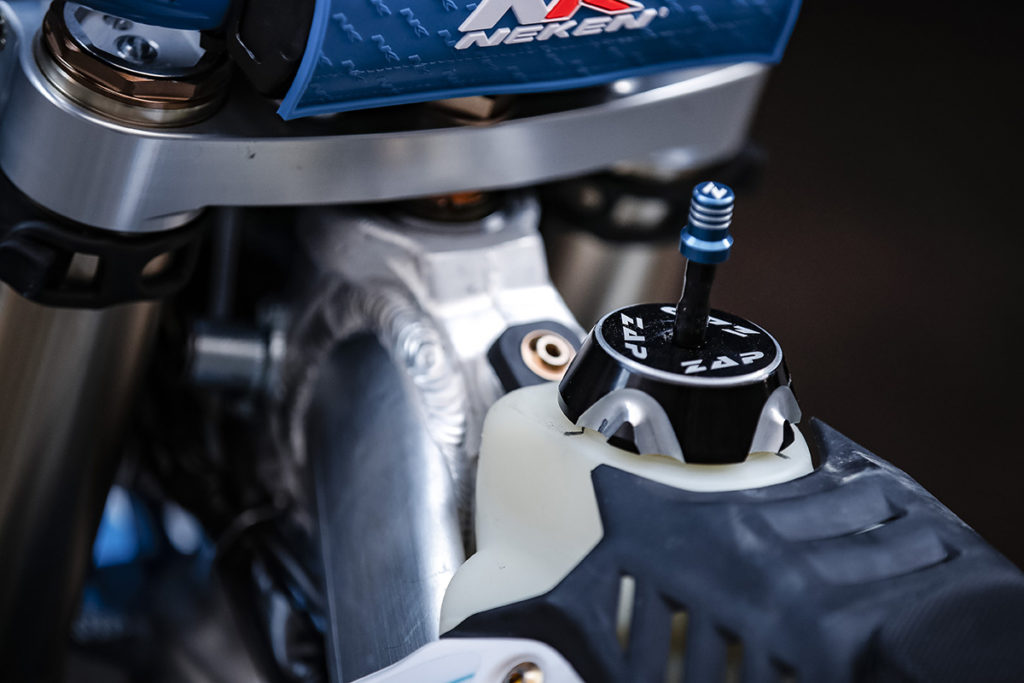 Those include a sprinkling of parts which the keen-eyed will notice are fitted to a number of bikes running in SuperEnduro, EnduroCross as well as major extreme and hard enduro events on the world stage. 
Like the AXP bash plate complete with the suspension linkage protector extending from the back of the lightweight but tough skid plate.
The seat is standard (shaped foam) but the Bud Racing cover is custom fitted by the team – Ty claims it makes minimal difference to him personally indoors because the extra grippy design doesn't see any wet mud but it does look good!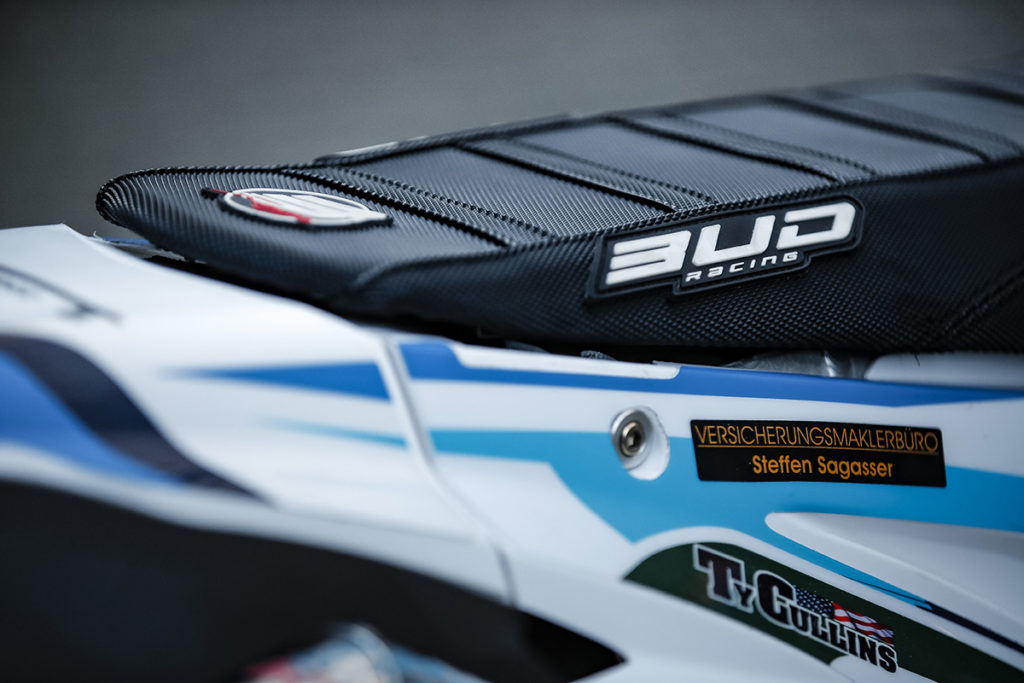 Another not un-common part are the Raptor Titanium footpegs – spot them on the Factory KTM and Husqvarna machines for example. "It's what I use at home also and I really like them, so I figured it was the best thing to run here too." Says Ty.
Raptor do a range of options for dropping lower and further back (5mm down and 5mm back is common) but Cullins says these are the same position as standard TM pegs. 
The team run different brake rotor/disc protection front and rear. The Italian brand Circuit front disc cover is a part used by the TM Racing Enduro Team.
The solid billet TM Designs rear disc protector is another part Cullins shipped over from the US and is a strong upgrade built to deflect those pesky rocks that routinely catch riders like Cullins out in the indoor races. 
Up top, the handlebars are Neken and clearly flatter than the original, "something close to the 999 Renthal shape," explains Cullins (though he couldn't remember which bend exactly).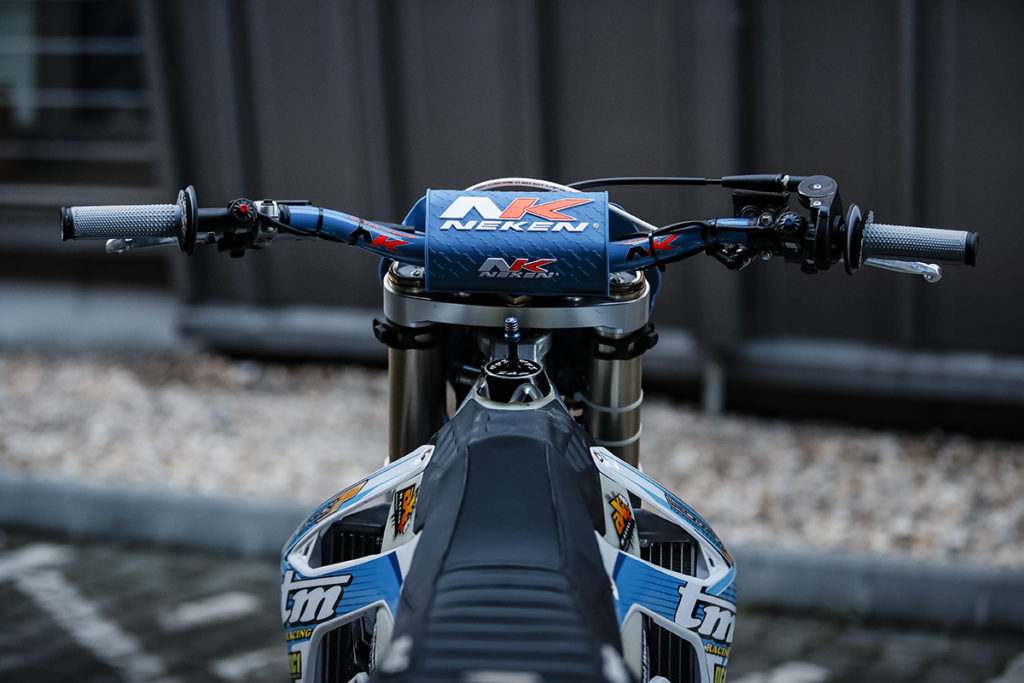 Standard brake, lighter clutch 
The front brake circuit is standard, "nothing special" the Wieczoreck GP Racing Team tell us which means the stock Brembo braking master cylinder and calipers front and rear. Some riders opt for a stronger feeling braded front brake hose but Ty isn't a fan and the part is also heavier they say. 
One difference is the lighter feeling clutch lever. The team fit a 9mm bore clutch master cylinder instead of the standard 8mm one to make pulling the clutch easier in this sport so rife with arm pump.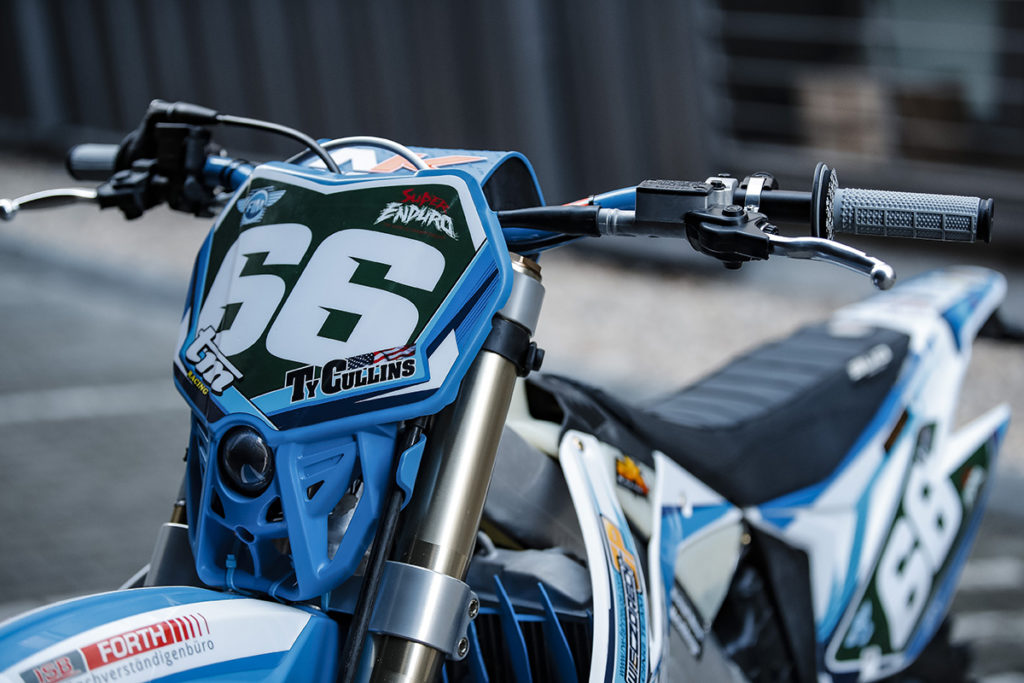 The wheels and spokes are stock Excel type from the standard bike. The Metzler Six Days Enduro tyres are a soft compound all round – tyre compound and mousses. 
"We have changed it after the Spanish round, it's softer now than there." Says Schmidt. "Mainly it's because he prefers it to be softer, in US he runs Kenda tyres, which are quite soft but they don't have FIM approval so we try to get close to the same feel with the Metzeler."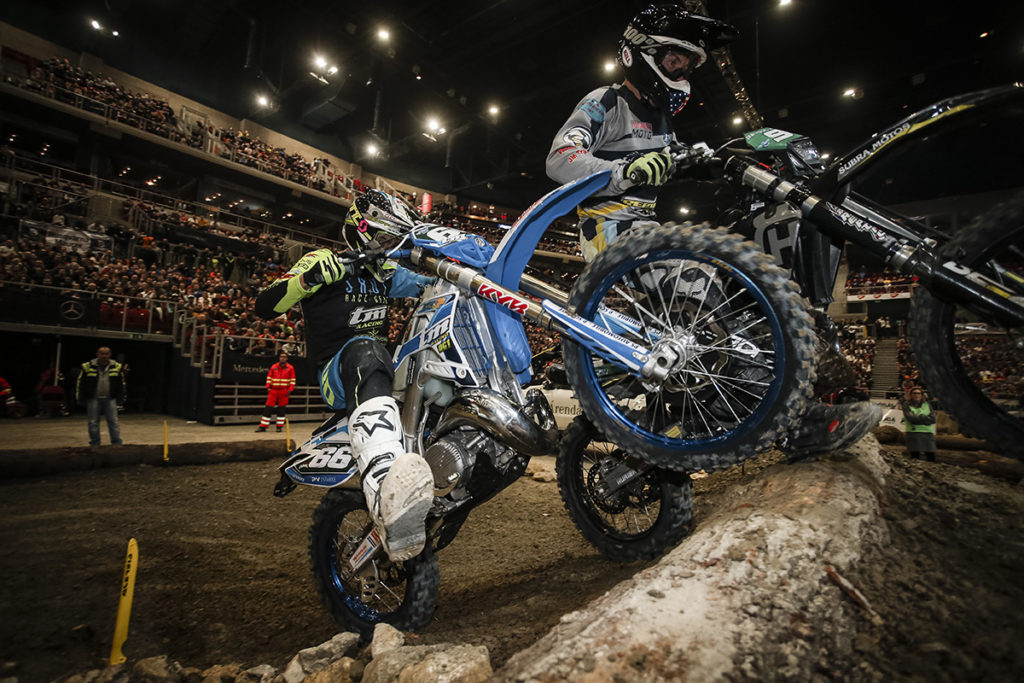 As is so often the case, the devil is in the detail with race bikes competing at the highest level. In this case, the basic bike is pretty standard and it is testimony to the standard TM Racing bike which arrives fully formed. 
The detail changes to the 300 two-stroke TM are simple but effective ones based on Ty's experience and personal set-up. It ain't easy arriving in a different continent to race on the world stage in series with bigger stadiums, louder fans and brighter lights shining on a young rider. 
But the team are used to this game and are looking after Cullins who is surely making a name for himself on the world stage. All he has to do now is follow the trend set by Haaker and Webb and take a title back across the waters to North America. As both those riders know already, that is not an easy task.
SUPERENDURO 2020 ROUND 2, GERMAN GP
Ty Cullins reckons he made hard work of it but the American took his TM 300 to three moto wins, matching Taddy Blazusiak on paper at least. It wasn't plane sailing for Cullins however as some crashes and a tough first
bend or two in the reverse grid moto two sure made it a money-earning night.
But, like Blazusiak, Cullins knows that points mean prizes and his triple victory sees him 15 points ahead of Leon Hentschel in the championship after two rounds.
Das Team vom JJ Escort Service gratuliert !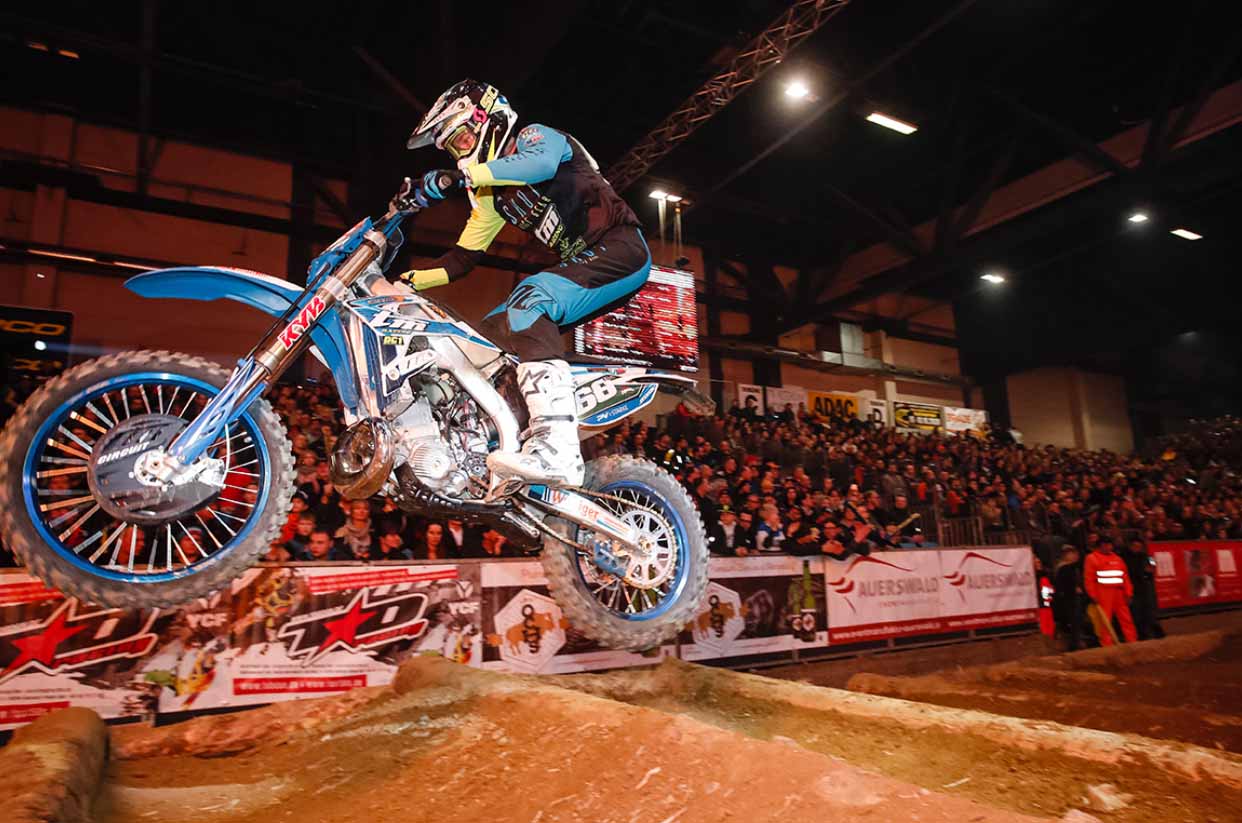 Ty Cullins siegt auf der TM Racing 300 2T
Ty Cullins vom Team Wieczoreck GP gewinnt auf der TM Racing 300 2T e.s die erste Runde zur SuperEnduro Weltmeisterschaft 2019/2020 in Krakow/ Polen in der Klasse Junior !
Ty legte im Zeittraining die schnellste Zeit vor und fuhr auch in den Rennen die schnellste Rennrunde. Mit den Platzierungen 1 , 2 und 3 langte es zum Gesamtsieg nach den drei Wertungsläufen und Ty hat mit Freude das "Red Plate" entgegen genommen !
Er ist auf dem Heimweg in die USA , kommt aber natürlich zurück zur 2. Runde am 04.01.2020 in Riesa/Deutschland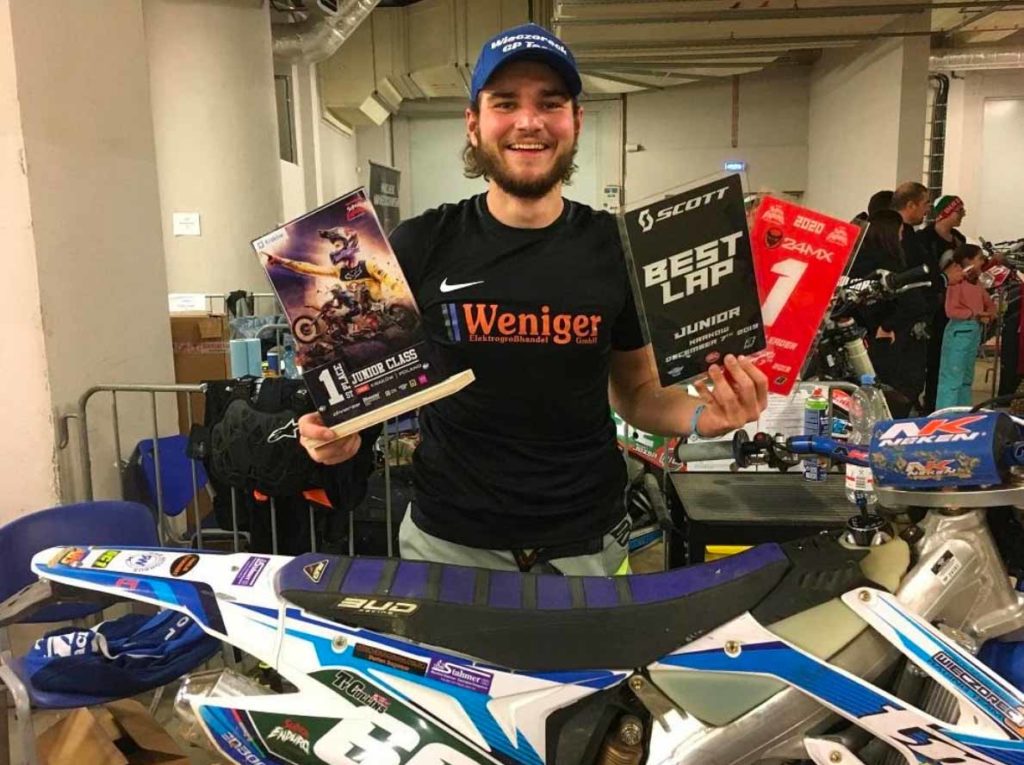 JJ-Escorts arbeitet mit dem Team Moto TM Deutschland/Austria zusammen
JJ-Escorts ist erfreut, die Zusammenarbeit mit einem der erfolgreichsten Off-Road Teams Deutschlands bekannt geben zu dürfen.
Moto TM Deutschland / Austria (www.tm-germany.com) wird JJ-Escorts, ab sofort, bei allen deutschen und europäischen Rennen repräsentieren. Wir hoffen auf eine lange und erfolgreiche Partnerschaft und wünschen allen Beteiligten einen erfolgreichen Start in die neue Saison. Die neuen Bikes sind fertig zum roll out !
Viel Glück, Leute !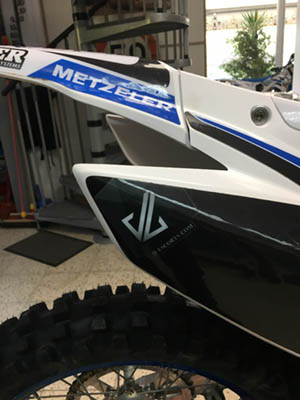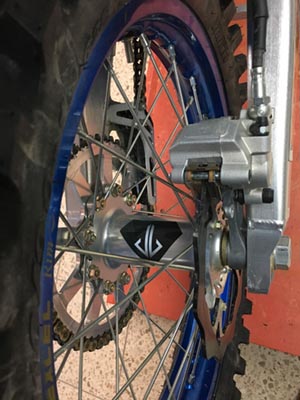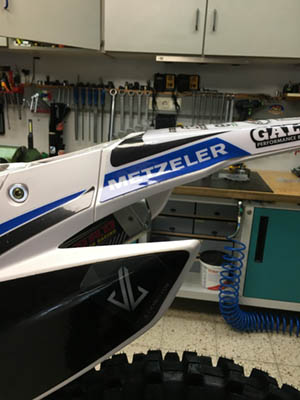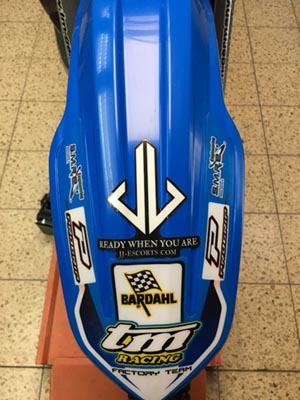 Top Ergebnisse für Danny McCanney und Andrea Verona bei der italienischen Enduro-Meisterschaft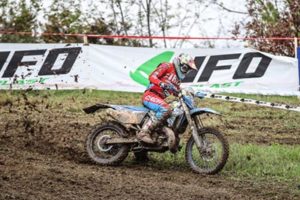 Am Sonntag, dem 14. April, fand die vierte Runde des Assoluti d'Italia di Enduro in Pontremoli in der Provinz Massa Carrara statt. Das TM Factory Enduro Team war mit Andrea Verona in der Junior-Klasse und Danny McCanney in der Foreign-Klasse vertreten.
Die beiden Werksrennfahrer standen in Pontremoli im Mittelpunkt und Dany McCanney war der schnellste Fahrer des toskanischen Wochenendes. Der Isle-of-Man-Fahrer setzte Fahrer des Kalibers von Steve Holcombe und Brad Freeman hinter sich und bildete ein Trio britischer Fahrer, die auf das Gesamtpodium stiegen. Als Schlammspezialist hat Dany McCanney fünf der zwölf Prüfungen gewonnen.
Hervorragende Leistung auch für Andrea Verona, der trotz eines Fehlers im Enduro-Test die Jugendklasse gewann. Der venezianische Fahrer fuhr auch in der Gesamtwertung  ein hervorragendes Rennen und erreichte mit einem neunten Platz die Top Ten.
Der nächste Termin für das TM Factory Enduro Team findet am 4. und 5. Mai in Valpacos für den GP von Portugal statt.
Das Team von  Escorts gratuliert.
*Inhalt von Enduro21.com zur Verfügung gestellt
2019 ENDURO GP OF PORTUGAL
Für die Fahrer waren die Bedingungen sehr hart, waren bei den Tests erstaunlich schnell und sind so weit gegangen, dass sie Fehler machten und stürzten. Einen Fehler zu machen, ist einfach, wie jeder Fahrer weiß und je schneller Sie sind, umso einfacher wird es . Zu den Fahrern mit kostspieligen Fehlern gehörten Eero Remes am ersten Tag und TM Racing`s Danny McCanney am zweiten Tag.
Beide hatten Auffahrten vor sich, die man nach den Fehlern erklimmen musste, und wie McCanney nach seinem extremen Testabsturz am ersten Tag, sagte: "Der Vierte Platz fühlt sich für mich heute wie ein Sieg an."
McCanneys TM Racing Teamkollege Loic Larrieu war mit seinem Wochenende nicht so glücklich. Loic war am ersten Tag sehr schnell gewesen und hatte sich nach acht von zwölf Tests in P2 gesetzt, als sein Motor entschied, nicht mehr zu arbeiten.
Leider konnte das Problem für den Sonntag nicht behoben werden, also verlor der Franzose doppelt Punkte.
Der Meisterschaftsführende Andrea Verona hatte jedoch andere Ideen. In Portugal gewann Verona nach vier Tagen in der Junioren-Gesamtwertung und in der J1-Klasse seinen vierten Sieg. Es ist seine Meisterschaft im Jahr 2019, wenn er es will, auch in diesem frühen Stadium.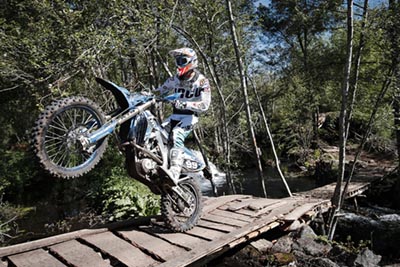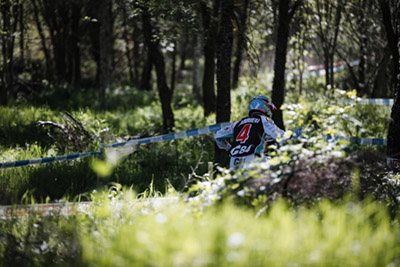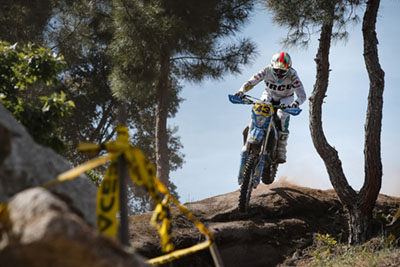 Das Team von
EXXILAR CORPORATION LTD
+49 (0) 1630000769
Costa Ourani 5
3085 Limassol – Cyprus